Dog Thumbs
What separates man from beast? The ability to make orange juice concentrate, and also thumbs. I have a solution!
Dog Thumbs will allow your dog to evolve. That's right! It's time to let dogs pull their own weight, and pick it up too.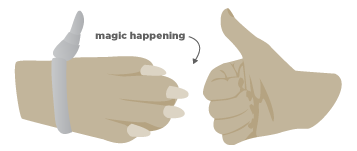 Think of Dog Thumbs as the best bracelet you've ever seen in your entire life.
Dog Thumbs fit any size canine appendage, and work with the natural movements of your dog's body.
Man's best friend just got a whole bunch thumb-ier.